Mario Kart Lancer League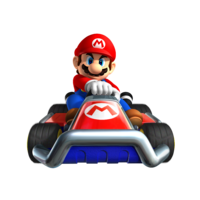 Hello guys and gals and welcome one and all to the new MK Lancer Clan. There is now a league where you can test your racing skills against the Area leaders, Mechanics, and Elite Racers. This is a Mario Kart 8 League with some exceptions. It'll be explained below. You even have a chance to race for the championship against our current champion. This will by no means be easy. I will be explaining the league and what is involved to challenge:
Required to challenge the League
- In order to challenge the League you must be a registered Driver. You would register below with your FC's and what games you currently own. it is done in this format:
SabienLance
Games owned: MK DS, MK Wii, MK7
FC's: MK Wii FC: 3868-8963-1010
3DS FC: 0645-6041-9942
MK Lancer Community: 13-1812-5484-3964
MK DS FC: 3911-1368-4973
This is REQUIRED to challenge as it is proof that you are an Official Clan Member. If for some reason you are denied then you cannot challenge.
-You can challenge the league in any order except for the Mechanics. Like the Pokemon League you have to obtain 8 Trophies to challenge. Also like the Pokemon league you need to defeat the Mechanics in succession to challenge the champ.
MK Area Leaders
- The Area Leaders are the Gym Leaders of each cup. They will be racing on all 4 tracks of their respective Cups. To defeat the Area Leaders you must earn more points than the Leader. In the event that it ends in a draw you would race on a track again to decide the winner. If you defeat the Leader you would earn a trophy
Mechanics
- The cream of the crop are the Mechanics. These are the Pros. They also can choose 4 tracks of any cup. Don't worry guys and gals each Mechanic can change their tracks but must cooperate with each other so you're not racing on the same track twice ( Like Rainbow Road lol). They can change it at any time. In the event of a tie another race will be done.
Top Racer(Champion)
- The one that stands above all is the Top racer. The champion is a master of the tracks and is also able to select 4 tracks of their choosing. They can also select any game they wish the challenger to play in ( as long as they have it that is lol). It is the best out of three complete races(4 tracks x 3). Should you defeat the champ then you will inducted into the MK Lancer Hall of Fame. Good luck.
Rules for the league
The Rules that can be used in an Official League Race are:
50CC/100CC/150CC
All Items/Shell/Banana/Mushroom/Bombs only
Community Race( Special Rule- read below)
Special Rules
Now where would the fun be if there were no surprises lol. There will be special rules and surprises that will be updated over time. Some of these rules will make it both challenging and fun to both the challenger and the Leader. Like Mario Galaxy where there are comets there will be special rules decided randomly by myself and the Leader/Mechanic.
Community Race- This rule will be put on a challenger and Leader randomly or by the Leader themself. Basically this means that when a challenger challenges a Leader I may post community race for this challenger. It means that the challenge will be done as a community with fellow Lancers racing as well. It will be 4 racers minimum(the leader, challenger, and 2 others). These racers will be trying to stop the challenger and Leader from reaching the goal lol. Example X member is challenging Y Leader. I call Community Challenge on X member for Races 1 and 2 ( It can be that specific). Myself and another member joins the race to make it harder for races 1 and 2. The remaining races can be done alone. It can also be called for the whole race so BEWARE lol.
More challenges will be added in time.
Rules to Apply for a Position
If a position is available you may apply for a position. You would send a PM to SabienLance of your interest. you may be tested to test your racing skills. If you are approved then you would start a new thread in the same format as it is now and post your info. Some things to remember before applying:
- You must have Mario Kart 8 to apply. The League is primarily MK8. However challengers and leaders/Mechanics/Champion can opt to battle it out in MK7 if they wish(I'm always ok with old school lol). However in order to have the league run smoothly you at least need to have MK8.
- You must be a member in good standing with the forum. Like all positions you will be denied if you are not so make sure to follow forum rules.
Once again Thanks so much guys and gals and welcome again to the Mario Kart Lancer Clan League.
Sabe